Home of:
Ricky the Time Traveling Trash Panda
A novel by Kent Golden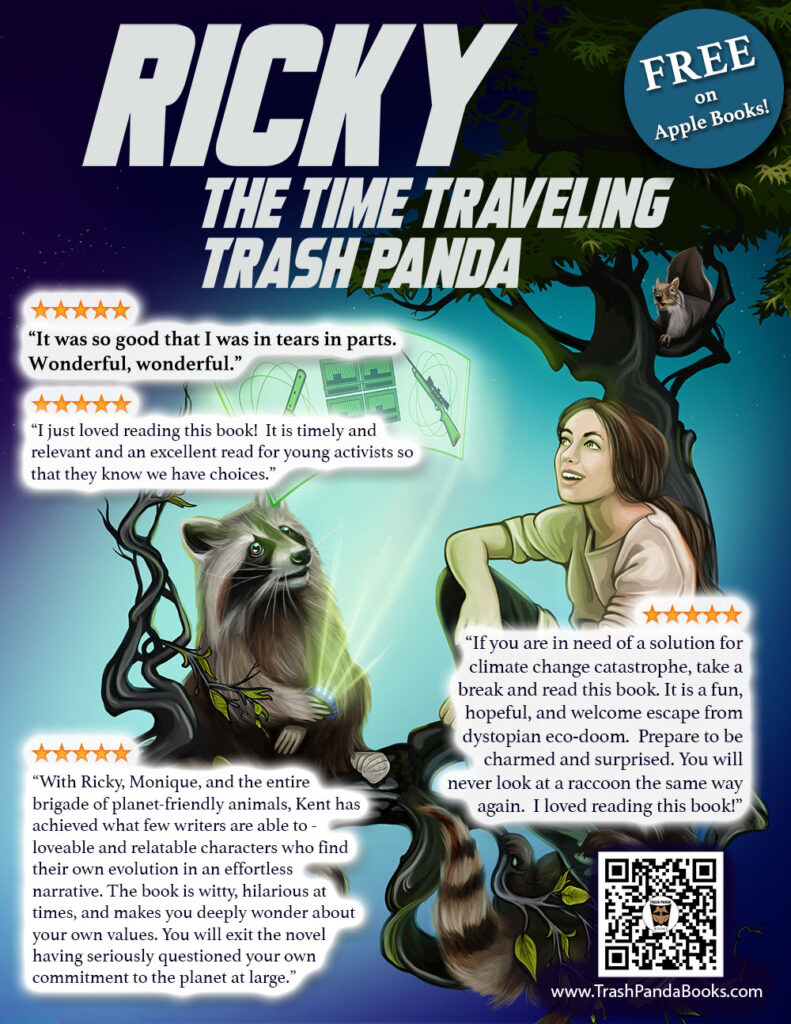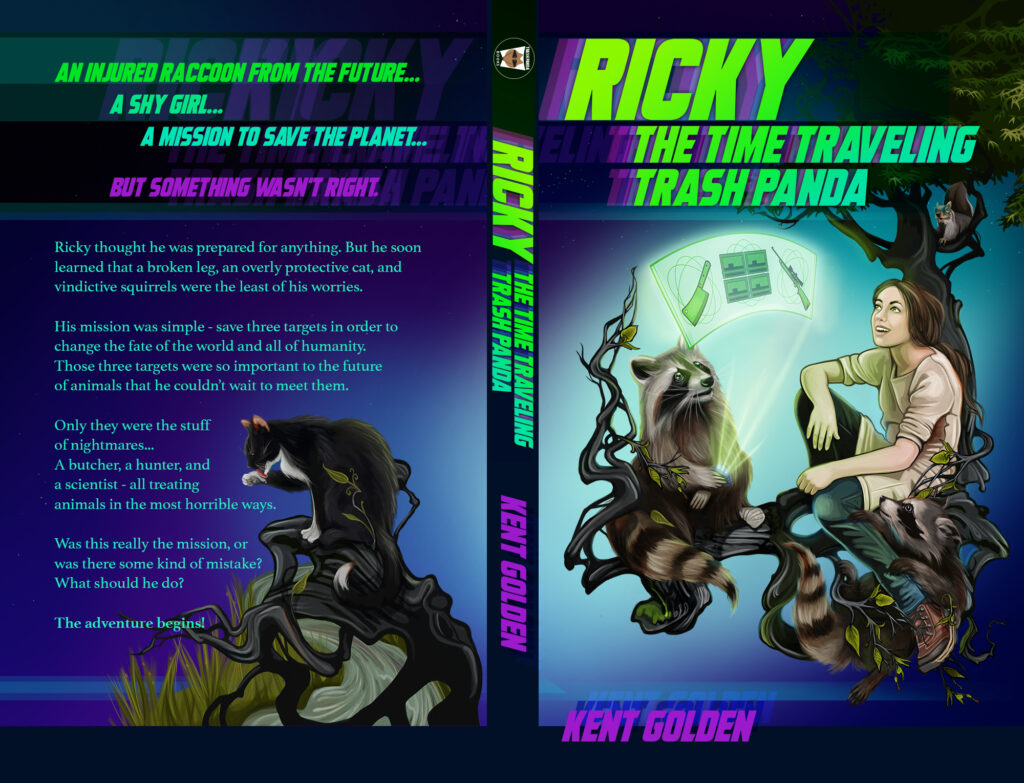 Neha2
"With Ricky, Monique, and the entire brigade of planet-friendly animals, Kent has achieved what few writers are able to – loveable and relatable characters who find their own evolution in an effortless narrative. The book is witty, hilarious at times, and makes you deeply wonder about your own values. You will exit the novel having seriously questioned your own commitment to the planet at large."
Cathy
"It was so good that I was in tears in parts. Wonderful, wonderful."
Lor
"I just loved reading this book! It is timely and relevant and an excellent read for young activists so that they know we have choices."
Michele
"If you are in need of a solution for climate change catastrophe, take a break and read this book. It is a fun, hopeful, and welcome escape from dystopian eco-doom. Prepare to be charmed and surprised. You will never look at a raccoon the same way again."
Neha
"WOW! That is some seriously good story-telling!"
Hillary
"Mr. Golden's book is a great way to get people of all ages involved in the discussion of how humans interact with nature, the planet and each other. It gets one to think about our individual actions and consider if and how we can change them to make a difference for everyone. Great job!"
Hillary – copy
"Kent Golden's optimistic adventure splices together science fiction, scenes of anthropomorphic animals caught in comic hijinks, and dead-serious moral questions about what an individual can do to enact urgent societal change. The moral lesson of Ricky's mission is fresh and inspired and likely to keep young readers in suspense. Ricky's central dilemma in the story — whether to go against his gut and follow orders to save the lives of three humans who have been cruel to animals — also is wholly original and engaging."
---
What would you do if you had to save the life of a murderer?
How do your daily choices impact animals and the planet?
This is a book that just might make you question your life… but in a good way!
Who's it for? Great for vegans, vegetarians, environmentalists, or anyone who loves animals and the planet. This is a novel that deals with moral questions surrounding humans and animals sharing the same world. An enjoyable yet thought-provoking read!
Age Range: 12+ (MG/YA to Adult) For some scenes of animals being treated unethically. Many younger readers are fine with the material, but having an adult check it over first is generally a good idea. Teens are the primary audience, but adults enjoy it as well!
An injured raccoon from the future…
A shy girl…
A mission to save the planet…
But something wasn't right.
Ricky thought he was prepared for anything. But he soon learned that a broken leg, an overly protective cat, and vindictive squirrels were the least of his worries.
His mission was simple – save three targets in order to change the fate of the world and all of humanity. Those three targets were so important to the future of animals that he couldn't wait to meet them.
Only they were the stuff of nightmares…
A butcher, a hunter, and a scientist, all treating animals in the most horrible ways. Was this really the mission, or was there some kind of mistake? What should he do?
The adventure begins!
Visit us on social media!